MTS2700 Series Switch – MAMMUTHUS Layer3 PoE/PoE+ Gigabit Ethernet Switch with 10G Uplink Ports
Access/aggregation switches that have comprehensive function with PoE/PoE+
MTS2700 series switches provides a whole set of access solution, which is able to support complex network design. The switches can prevent unauthorized network access or mitigate the impact of network attacks via plenty of security features.
All RJ45 ports in MTS2700 series switches support PoE/PoE+ function, which are able to provide up to 30W power supply for the PoE PD device, such as webcam, IP telephone etc. What's more, modular PSUs can provide FRU and the device can work properly under maximum temperature up to 55°C.
MTS2700 switches have comprehensive L2/L3 feature set, which can provide flexible, reliable and secure choice for network planning. Network consultant can enhance network security via DAI/DHCP snooping or can optimize multicast via IGMP snooping or can use broadcast control to ensure the network stability when UMB flooding.
Compare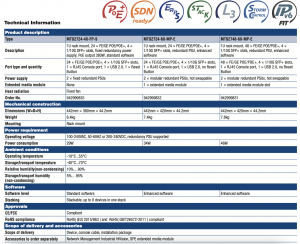 Related Products
desktop-columns-3 tablet-columns-2 mobile-columns-2

Availability: In stockOut of stock

Modular core switch

MTS8000 series switch has compact configuration and powerful extension capability. The switch provides industry-leading SFP+/QSFP port density inside 6U outline. Besides, it provides lots of port in various types and can support PoE/PoE+. MTS8000, together with other switches in Mammuthus series, provides an end-to-end total network solution.

MTS8000 series switch have dual redundant engines and 3 media module slots and it is able to support GE, SFP, SFP+ and QSFP type of ports. Moreover, all software function can be implemented on all these ports. No matter serve as a spine node in spine-leaf topology or as a core node in traditional topology, MTS8000 can play its best part. The device support openflow 1.3 SDN controller.