MTS2600 Series Switch – MAMMUTHUS Layer2 Gigabit Ethernet Switch with 10G Uplink Ports
MTS2600 series switch is the entry level access switch in Mammuthus series, providing sufficient performances and flexible functions. 10 Gigabit port is available so uplink speed to core switch is assured.
All RJ45 ports in MTS2600 series switch support auto-negotiation and MDI/MDI-X, and all SFP+ slots can work under 1/10G mode. All SFP+ slots support 1G and 10G MTS SFP modules, including fiber and UTP/STP*.
* detailed information please see SFP chapter in this brochure.
For higher port density and performance at access level, MTS2600 supports stacking and downlink-oversubscribe design, in which 24 GE access ports couples with 4 10G SFP+ uplink ports. Since the MTS2600 series switch supports ERPS and have hardware based broadcast control, the switch can be deployed in ring topology.
Compare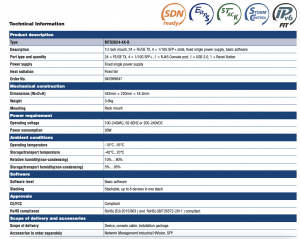 Related Products
desktop-columns-3 tablet-columns-2 mobile-columns-2

Availability: In stockOut of stock

High capacity aggregation/core switch

MTS2900 series switch provides industry leading ports density and switching speed. It
not only serves as a core switch, combined with MTS2600/MTS2700/MTS2800 to offer compact data network solutions, but also works as a aggregation switch, with MTS8000 to offer large network solutions.

MTS2900 series switch offers 48 SFP+ slots, all these slots support 1G/10G SFP modules and support multiple SFP application that varies from 550m multi-mode SFP to 80km single-mode SFP+. The 40G QSFP in MTS2900 can offer high-speed uplink/interconnection links. The switch can be used in deployment model basing on spine-leaf and can support openflow 1.3 SDN controller.